Canterbury Foam Concrete Ltd have been manufacturing and installing light weight Foam Concrete in Christchurch for over 20 years. "Thermofill™" is a trademark name for a system of sealing the ground beneath your wooden floor home to stop rising damp.
Rising damp can be a major contributor to poor health causing respiratory issues like asthma. A recent report published in an International Medical Journal stated that "Almost 20 percent of hospital admissions of young children with acute respiratory infections could be prevented if their houses were free from damp and mould"
Independent tests have shown that up to 40 litres of moisture can rise off the ground every 24 hours. The moisture will often manifest in mould, mildew, musty smells, condensation and high RH values inside the house.
While insulation is important, it has long been recognised that it is dampness that is the real villain in the house. The new Healthy Homes Standards introduced by the government effective from the 1st July 2019 now has a requirement to install ground moisture barriers, a key element in the armoury to fight moisture in the home.
Dr Larry Bellamy BE (hons) PhD in a report dated 1988: Foam Concrete Under Timber Floors: An Energy Analysis assessed the effects of placing Foam Concrete over damp soil and had this to say: Condensation on the underside of a timber floor can occur where the floor is suspended over damp ground and the inside air temperature falls close to the crawl space air temperature. Much energy is required to vaporise moisture that penetrates the structure. By avoiding underfloor condensation, foam concrete can reduce floor heat losses by up to 90%.
Canterbury Foam Concrete Ltd can, in most cases, install a Ground Moisture Barrier under the suspended wooden floor of your home, even when there is no crawl space.
BRANZ Appraised; Appraisal Number 961.
Members of the Insulation Association of New Zealand.
We offer a free measure and quote in the Canterbury region with no obligations.
Assessments can be made in all other regions by arrangement.
Call us today for a free home assessment
---
ATTACK RISING DAMP AT THE SOURCE
For existing homes with wooden floor construction
●  Stop Mould & Mildew
●  Reduce Heating Bills
●  Cost Effective Permanent Solution to Rising Damp
●  Free Consultation/Quotes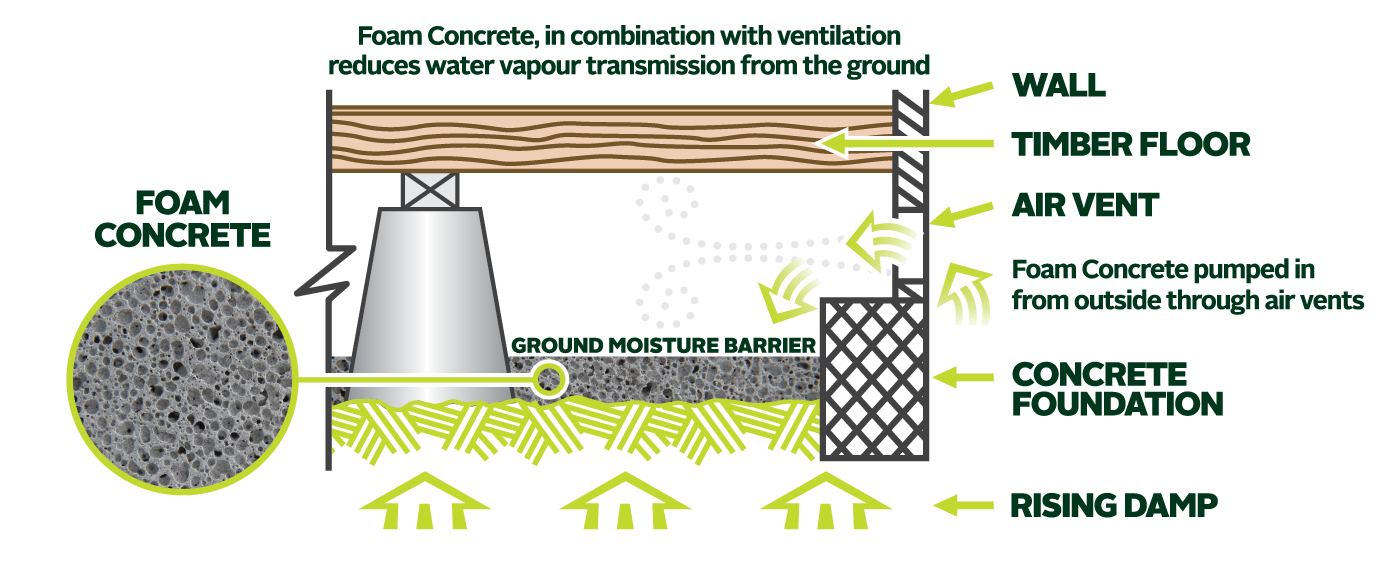 Our system is:
●  BRANZ Appraised
●  Accepted by MBIE as an alternative solution to a polythene ground moisture barrier
●  Accepted by the Insulation of New Zealand (IAONZ) as an alternative solution to a polythene ground moisture barrier
---
HOME ASSESSMENT – INSTALLATION OF A GROUND MOISTURE BARRIER
FREE site inspections, assessments and quotes are provided for the Canterbury region. For all other regions, assessments can be carried out by arrangement.
Canterbury Foam Concrete Ltd will carry out a site assessment and provide a quotation for the installation of Thermofill™ Ground Moisture Barrier.
A site assessment will include;
Measuring the area under the floor to be treated, excluding areas such as garage floors, porches, verandahs, any areas where concrete floors might exist.
Check access to the underfloor area is available through vents or manholes.
Visually check the subfloor area for storm and surface water entering the sub floor space or leaking water pipes and sewage pipes.
Visually check for telephone wires and electrical cables.
Assess the space under the floor is available for Thermofill™ concrete and ground slopes are suitable.
Check that driveways access is adequate for the works to be carried out.