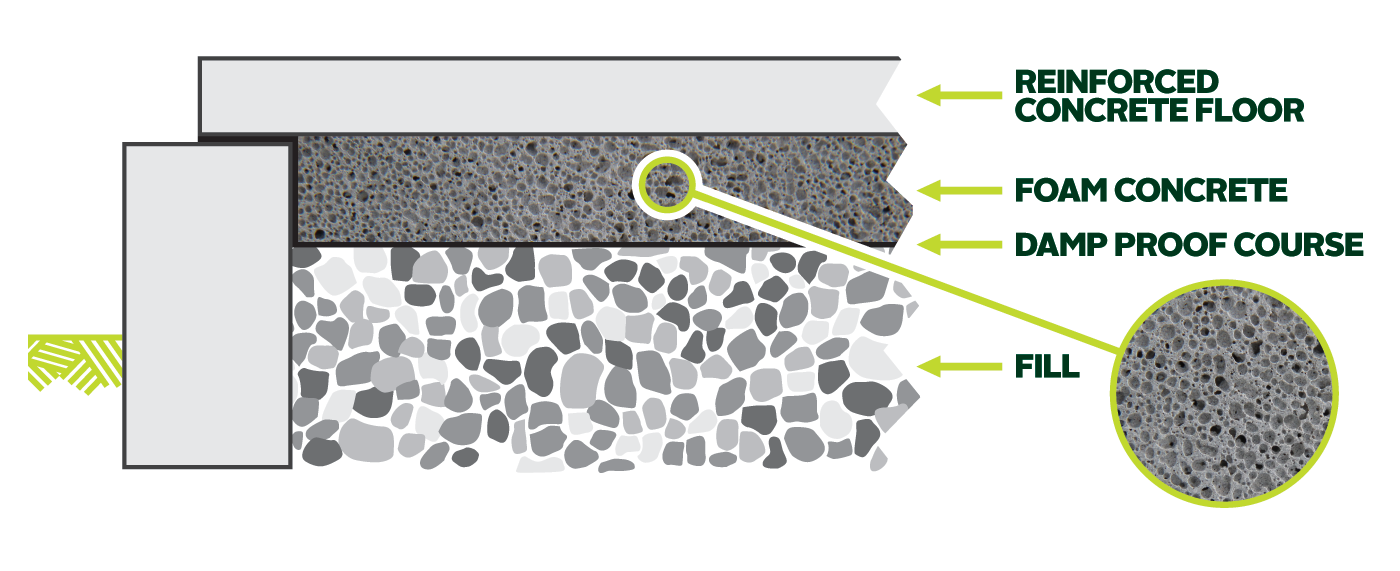 MANUFACTURING LIGHTWEIGHT, FLOWABLE CONCRETE FOR OVER 20 YEARS
The flowable nature of Foamcrete makes it ideal for a range of applications including:
● Stop Mould & Mildew
● Filling redundant pipes
● Annulus void filling
● Under runner filling
● Trench backfilling
● Ground sealing, stopping rising damp
● General filling of voids and fissures
● Nationwide availability on application
Redundant pipe filling

It can be far more economic to fill redundant pipes in the ground rather than digging them up and removing them. Canterbury Foam Concrete is well experienced with this technique and has filled thousands of meters of redundant pipes in Christchurch post-earthquake. It has also been specified for this use in wastewater and Storm water pipes by the Christchurch City Council Civil Engineering Construction Standards Specification. Follow link:
https://www.ccc.govt.nz/assets/Documents/Consents-and-Licences/construction-requirements/CSS/18-504208-CSS-amendment-V10.4-14052018-Part-3-Drainage-10th-2018-final-web.pdf page 8.
Annulus Void Filling: Case Study
A 900mm steel casing was thrust under the Christchurch Southern Motorway and sub-ducted with a 600mm dia Polyethylene Pipe. The resulting annulus is in excess of 30m³. Canterbury Foam Concrete Ltd were engaged to advise a suitable procedure to fill the annulus with Foamcrete. This was achieved in one seamless operation.
Trench backfilling: Case Study
Foam Concrete can be used as a trench backfill around pipes or conduits where it is not possible to compact other materials. This type of void may include an under mined section under a foundation where support is essential.
Contractors installing additional services under the tram line foundations in central Christchurch had to tunnel under the foundations. Canterbury Foam Concrete Ltd was engaged to supply a flowable trench backfill. Foamcrete flowed to completely fill the void ensuring that full support was returned to the foundations.
Fissures & Tunnel Gullies.
Canterbury Foam Concrete have carried out multiple void filling jobs such as fissures and tunnel gullies over the years for Christchurch City Council as well as for private land owners.
Light weight floor screed for waterproofing
Want to keep weight down on an upper level but need to achieve built up grades for drainage, waterproofing or tiling? Canterbury Foam Concrete can product a light weigh mix for this. It can be screed to grade or level and easily ground and shaped as needed days later due to the slower curing of this mix.
---
The video below shows a specialised fill by Canterbury Foam Concrete.